Rent a Car Thessaloniki 18% discount on all cars
Rent a Car Thessaloniki
Take advantage of our unique Offers today
Are you looking for the best prices for car rental in Thessaloniki?
The most reliable car rental company in Thessaloniki
We have over 30 years of experience in car rental in Thessaloniki city center, Macedonia airport and Northern Greece.
We have a wide range of passenger cars and commercial vehicles.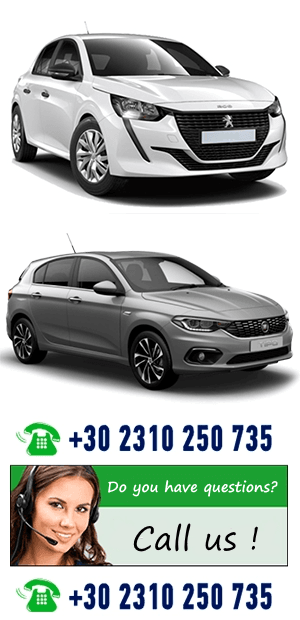 Our fleet consists of the most advanced car models (Diesel / LPG and Hybrid) available on the market.
We have everything from small and flexible cars to limousines and we can meet your every need for any time and occasion.
We perform rigorous maintenance using the most advanced technological equipment and make sure our cars are always clean and safe before each rental.
We have all types of cars available Mini Van | Small-Medium-Family
Station Wagon | 7 Seats and 9 Seats | Automatic Transmissions Cars
Diesel | Hybrid | Commercial Vans